I am Lottie;
Personal Trainer
and your guide
to a healthier,
happier and
stronger self.
About
Staying fit and healthy has always been an enormous part of my life. From completing marathons and triathlons, playing hockey and netball to training in the gym, I love to stay active and give my body new challenges.
For me, training is not only a physical release but a mental one too. I love the energy I get from exercise and how it naturally makes me feel happier, more focused, calm and ready to overcome any hurdle that life throws at me.
No matter what your objectives and goals are, I will be fully committed to guide, support and motivate you through a bespoke fitness program. I hope to instil my love of health and fitness in you so you too can feel your strongest in both body and mind.
Personal Training
Whether you're new to fitness or want to take your training to the next level, returning to fitness after having a baby, looking to lose weight or build muscle, running a marathon or simply preparing for a holiday, I'll personaIise a training programme to suit your goals. I'll listen to your preferences and ensure our sessions are progressive, challenging, innovative and fun, but most importantly you see the results you want.
In addition to our one-to-one time together I will be on hand to help you maintain a positive lifestyle and a strong, healthy body and mind. For example I can offer advice with restaurant menu choices or provide hotel room workouts when you're on a business trip to help you stay focused when life gets busy.
After your initial free Health and Fitness Consultation you will soon be on your way to making healthier choices, seeing results and becoming the happiest, healthiest and strongest version of yourself.
Partner Up Personal Training
Personal training with a partner or friend is becoming an increasingly popular choice for many clients who not only see it as a great way of increasing motivation but also an ideal way of sharing the cost.
As well as being great fun, partner sessions ensures instant accountability, encouragement and support, keeping you on track as you work to achieve your individual goals. I will create a bespoke, highly effective training programme that suit both abilities and is geared towards each of your objectives.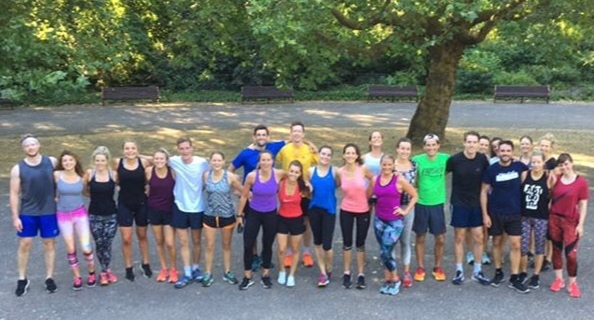 Bootcamp in Battersea Park
Meet like-minded people, get fitter and most of all, have fun!
These outdoor workouts are designed to make you stronger, fitter and faster helping you to achieve your goals. The sessions are suitable for all abilities and are constantly adapted and varied so no more boring workouts! Classes will include; body weight and equipment based sessions, circuits, speed and agility work and core and stability. Whatever you are looking to achieve, working in a group environment will encourage you to push yourself harder than ever before and help you to strive to work to the best of your ability.
If you would like more information about our Bootcamps, just get in touch now via the CONTACT link or REGISTER below.
"Lottie has given me so much confidence in my fitness. She has encouraged me to push myself and achieve more than I thought I ever could. Every session is unique and carefully planned to suit my aims and capabilities and I am already seeing changes in my body after a couple of months. I couldn't rate Lottie more highly."
Verity, 28. Bride To Be.